Get the most for your registration dollars!
With the Online Library, your learning opportunities continue after you leave Louisville and return to your practice.
5 Extra CNE for FREE!
Full symposium registrants* receive an additional 5 contact hours in the Online Library. After the symposium, review meeting sessions you didn't attend in Louisville and complete CNE evaluations for up to 5 additional contact hours – for FREE!
*Bonus CNE is available with Full National Symposium registration only and includes symposium content only (not pre- or postconference sessions).
Other Benefits
Access and print session handouts prior to the meeting.
Download audio recordings of sessions and listen to them at your convenience.
Complete CNE evaluations onsite, at home, at work, wherever!
Print your CNE certificate at home — no need to worry about losing it during your travels.
Handouts Now Available Online
Speaker handouts are now available in the Online Library. Symposium attendees are encouraged to download and print any you would like to take with you to Louisville.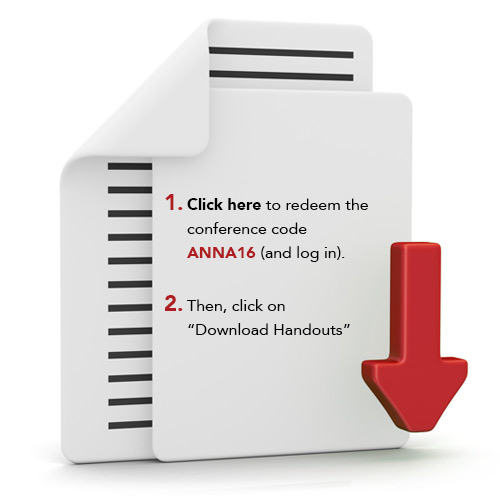 Note: If you are new to ANNA and did not complete your meeting registration online, or your employer mailed your registration, you will need to establish an account in order to complete your meeting evaluations to earn contact hour credit. We recommend you create your account before you go to the conference. Go to annanurse.org, click the "Create an Account" button in the upper right area of the home page. Your username should be your e-mail address submitted with your registration. Your password can be anything you want. Please make a note of it.