ANNA's Online Library provides great benefits to YOU, our meeting attendee!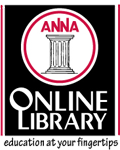 ANNA wants you to get the most out of your registration dollars. With the Online Library, your learning opportunities will continue long after you leave Anaheim and return to your practice. The Online Library ~ www.annanurse.org/library ~ enables you to:
View and print speaker handouts prior to the symposium
Access ALL meeting educational sessions (including audio and presentation slides) FREE following the symposium
Earn CNE for any sessions you may miss while in Anaheim (CNE processing fees apply)
Evaluate sessions online
Print your contact hour certificates anytime, anywhere
Bonus This Year – 5 Extra CNE for Free!
As a symposium attendee*, you will have access to an additional 5 contact hours in the Online Library. After the symposium (once the CNE evaluation deadline has passed), you can review meeting sessions you may not have been able to attend on site, and complete additional CNE evaluations for up to 5 additional contact hours – for FREE!
*Bonus CNE is available with Full National Symposium registration only and includes symposium content only (not pre- or postconference sessions).
Additional Details
Enjoy free access to National Symposium educational sessions through the ANNA Online Library! Approximately 3 weeks after the National Symposium, you can visit ANNA's Online Library (www.annanurse.org/library) to view the sessions you could not attend at no additional charge (CNE processing fees apply). Download the audio recordings of the sessions you missed and listen to them at your convenience.
EVALUATE sessions online when you return home, or while on site. You will have approximately 4 weeks after the meeting to complete your evaluations and earn your CNE credit.
PRINT your CNE certificates at home. No need to worry about losing them during your travels. Just access the certificates in ANNA's Online Library and print them whenever you need them post-meeting.
ACCESS and print speaker reference materials approximately 2 weeks before the National Symposium. Simply redeem conference code ANNA14 in the Online Library to access handouts. Registrants will be notified when the speaker reference materials are posted. Because speaker reference materials will be available online prior to the meeting, only attendees who purchase printed speaker reference materials at the time of registration will receive a printed copy of these materials onsite.